The following is a small portion of deals we have seen to the closing table. We are truly privileged to have represented some of the greatest entrepreneurs in the manufacturing, distribution, service and construction industries. We consider each and every one of them friends of the firm and are humbled and honored to have assisted each of them through the daunting process of selling their businesses.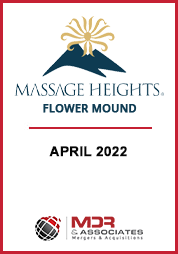 Massage Heights Flower Mound Locations
3 Massage Heights Locations: Plano, Frisco & McKinney
Eddie's Mechanic and Body Repair
Boone's Heating & Air Conditioning
Bradtex Air Conditioning & Heating
Lex Air Air Conditioning and Heating
Cynthia's Manhattan Limousine, Inc.
Luke's Landscape & Maintenance
All-Systems Air Conditioining & Heating
King Air Conditioning Inc.
Southern Comfort Mechanical
Discovery Learning Center
MDR & Associates sold Discovery Learning Center in McKinney to a local strategic buyer who already owned a daycare in the DFW area.  The sellers have owned the daycare for over 30 years and faithfully served local families providing world-class teaching and care for toddlers and children of McKinney and surrounding cities.  It was extremely important to our sellers that the employees, children and overall environment stayed true to their calling that had been established in the daycare since opening in 1986.  We are honored and humbled to have been a part of serving and protecting such a great legacy. 
RV Dallas
MDR & Associates sold RV Dallas in Prosper a local strategic buyer. The buyer, Scott Owens owns an RV storage facility and completed the purchase to expand its service offering beyond RV storage and service. RV Dallas is one of the largest RV rental businesses in Texas and has a fleet of 23 high-end RV's for daily or weekly rental. The deal closed in lightning speed due to the nature of the seller/buyer relationship. Our seller actually rented space from the buyer over the last seven years and the buyer watched our seller grow the business year over year.
Complete Pharmacy Care
MDR & Associates listed and sold a niche pharmacy located in Sachse, TX. The sellers, a father/daughter team came to our firm with specific goals and objectives that initially seemed unobtainable and quite unreasonable. During the initial steps of the process, our team discovered several unique value propositions and brought the pharmacy to market almost a year after engagement. A strong strategic buyer out of Austin, TX was selected as the buyer due to dramatic synergies and overall philosophy and closed quickly due to a strong financial position and excellent leadership team.
Lone Star State Cigar Co.
MDR & Associates sold Lone Star State Cigars for a record third time in the nine years. The Seller, Cabe Chadick has trusted our firm on five different transactions. After making the tough decision to exit the cigar industry, Mr. Chadick contacted CEO, Michael Rubin and wanted to get back to being the successful Actuary he is on a daily basis. The deal was consummated from listing to close in under 30 days. Michael Rubin comments on Mr. Chadick, "Our ultimate compliment is when a client comes back again and again for our services. Cabe Chadick is one of the finest men I've ever known!"
GreenTex Lanscaping
MDR & Associates represented Aaron Davis in the sale of GreenTex Landscaping. After building the initial marketing package, our deal team, led by Michael Rubin worked swiftly to find a buyer exiting corporate america and looking for more time freedom and calendar control. The well-qualified buyer that was selected brought a wealth of experience in sales and operational management to the table and the deal was closed in under 90 days from initial listing. We wish Bill and Aaron continued success and prosperity and look forward to serving them both in the near future.
RSVP Dallas/Ft. Worth
MDR & Associates sold RSVP Dallas/Ft. Worth to an local high net worth investor who has big plans for this high-end print and advertising concept. RSVP is a Leading direct-mail franchise company established in 1985 and has become one of the largest direct mail advertising companies in the nation. RSVP designs, prints and mails 4-color picture postcards, advertising the more upscale local businesses to the wealthiest 20% of households in the U.S.
GetMePlacement
MDR & Associates sold multiple SEO business licenses for our client, GetMePlacement in McKinney, TX. GetMePlacement specializes in assisting small to medium sized businesses in search and has a proven track record of helping 14,000 businesses achieve first page placement with Google. We are honored to represent a true market leader in the SEO space and look forward to partnering with their CEO & founder long into the future.
Luxe Salon
MDR & Associates sold Luxe Salon in less than 4 months to a strategic buyer in the beauty and wellness industry. Our clients, Dale and Eve Collins grew Luxe over the last 15 years into one of the most iconic high-end salons in the industry. Staffed with the industries best stylists and hyper-focused on excellent customer service and latest styling trends, Luxe was named best salon in "D" Magazine multiple times over the last decade.
Elastic By The Yard, LLC
MDR & Associates listed and sold Elastic By The Yard, LLC to a private investor group out of Dallas, TX in March 2014. Located in a renovated barn in Anna, TX, EBTY sells wholesale colored elastic to individuals and small business owners all over the world. The sellers, Kristen & Frank Barnett, trusted MDR & Associates to find the right buyer, right price and right structure and decided to stay on in an ownership role for the next 3 years and will continue to protect its niche position as a top 20 seller on ETSY.com. The company sold over 1 Million yards of colored elastic in 2013 worldwide.
RX Worldwide, Inc
MDR & Associates sold RX Worldwide, Inc in August 2014 to Mike & Sally Roberts. Both new owners have previous pharmaceutical backgrounds and are excited about the acquisition and future of the company. RX Worldwide provides agile pharmaceutical event planning solutions ranging from investigator and advisory board meetings, to key opinion leader forums, global sales conferences and product launches across the United States, 35 Countries and 5 Continents.
Power Factor, Inc
MDR & Associates recently listed and sold Power Factor, Inc in April 2014 to a previous client, Metroplex Battery, Inc. The acquisition was a perfect add-on company for Birju Patel, Metroplex Battery's new owner and CEO. Since 1996 Power Factor Inc. has been a leading distributor of battery back-up systems for small and large companies nationwide. MDR & Associates CEO comments on the sale, "We are truly honored that a previous client called on our firm to facilitate this acquisition. Metroplex Battery is growing rapidly and this acquisition will fuel the explosive growth the company is experiencing currently."
Dynamic Glass
MDR & Associates sold Dynamic Glass for just over $17,000,000 in March 2014 to a regional investment group called Platform Partners. Platform Partners seeks Equity investments of $10 to $50 million with proven and profitable business models. Any potential acquisition target must have significant free cash flow and have a scalable operating platform. Platform Partner's overall strategy is to Buy & build in fragmented industries and retain a strong management team to carry on the legacy of the business while growing top line revenue.
Titan Fence, Inc.
MDR & Associates sold a majority interest of Titan Fence, Inc. to Andrew Craft in February 2014. Centrally located in Dallas/Ft. Worth area, Titan Fence is one of the largest fence companies in the Dallas/Ft. Worth area. The company has been a main fence supplier of some of the biggest home builders for over a decade and has been known for its quality and customer service. Mr. Craft will bring a new level of financial and operational expertise to the company and will now be responsible for the overall vision and strategy of the company moving forward.
Mi Casa Cigars
MDR & Associates sold Mi Casa Cigars in January 2014 adding the 6th cigar lounge to the Up In Smoke cigar empire in Dallas, TX. Mi Casa Cigars was founded by Dave Sledge in 2009 as a neighborhood staple in Little Elm, and its legacy will continue under the Up In Smoke brand long into the future. MDR & Associates was honored to represent Mr. Sledge in this transaction. This cigar acquisition marks the 15th cigar lounge sale by the firm since inception.
Rackmount Solutions, Inc.
MDR & Associates sold Rackmount Solutions, Inc. to Bogey Free, LLC in January 2014. The new owner, Tom Currier was previously a top executive with MetroPCS and brings high level executive experience to this fast growing company. Rackmount Solutions is an industry leader in supplying server racks, server cabinets, wall mount racks, network racks, LAN racks, portable rack mount cases and accessory products for the IT industry. Rackmount has been listed as one of the fastest growing companies in the U.S. four years in a row.
Stafford & Jones Cigars
MDR & Associates sold Stafford & Jones Cigars in Richardson, Two Brothers Cigars in Plano and Fine Cigars in Allen, TX in May 2013 to Lone Star State Cigar Company. This new cigar lounge operator in Collin County has a total of 4 distinct locations up the US 75 corridor. MDR & Associates was proud to represent 3 different cigar retailers in this multi-shop transaction. The owners of Lone Star State Cigars are serious operators and are positioned perfectly for future growth into the rest of the DFW market and beyond.
Metroplex Battery
MDR & Associates sold Metroplex Battery in April 2013 within 2 months of the initial engagement. Metroplex Battery has been delivering deep cycle batteries to clients all over the state of Texas for nearly three decades. The company serves hundreds of golf courses by delivering golf cart batteries statewide. The new buyer has a deep commitment to continue the great legacy and excellent customer service level that our client has established since 1985.
FaceLogic Spa
MDR & Associates sold FaceLogic Spa in Highland Park in March 2013. This award-winning retail spa performs more facials on a monthly basis than any other spa in Dallas. The Spa was sold within the first month of listing to a top Mary Kay executive with a deep understanding of the skin care space. The new buyer will continue with the same culture and rich heritage that has made the spa a true gem in the prestigious Highland Park community.
Up In Smoke
MDR & Associates sold Up In Smoke in January 2013 to an undisclosed investor. Jay & Wendy Fox started the Up In Smoke retail operation in 1978 and has grown the business to become one of the largest cigar retailers in the state of Texas with five distinct locations in the DFW area. Jay is widely known as the grandfather of the cigar business and his passion for the business and influence in the industry will be felt long into the future and never forgotten.
Havana Jim's Cigars
MDR & Associates sold Havana Jim's Cigars in Allen, TX in December 2011 to Kale Martin. Havana Jim's has been a local hotspot for cigar aficionados since 2009 and will continue to be a flagship lounge long into the future. MDR & Associates has established itself as the only business brokerage firm to call when contemplating a cigar shop/cigar lounge sale in the state of Texas.
JC's Burgerhouse
MDR & Associates sold three of the six JC's Burgerhouse locations in August 2011. The new owner, Bill Oglesby, continues the legacy Jay & Sondra Cockrell began almost 11 years ago. JC's Burgerhouse has been voted "best burger" in Collin County many times over in the last decade.
City Cigars
MDR & Associates sold City Cigars in April 2011 within 90 days of taking the engagement. The seller, Ernesto Velez, founded City Cigars in 2001 and built the lounge into a city hub of energy and excitement. The new owner, Paul Magnini, has continued the legacy of this lounge with a high level of service and the same friendly environment Mr. Velez began nearly a decade ago.
RV Dallas
MDR & Associates sold RV Dallas in 2010 to Scott Watson, a previous top executive with the Fast Signs franchise. Mr. Watson has quickly grown into one of the largest independent luxury RV businesses in the state of Texas. Located in Prosper, TX, RV Dallas has a large, high-end fleet of luxury motorhomes and is poised for serious growth over the next few years and beyond.
Allstate agency in Flower Mound, TX
MDR & Associates sold an Allstate agency in Flower Mound, TX in 2010 for just under $1,000,000. The client, Randy Bergfield trusted MDR & Associates to secure the right buyer, right price and an all-cash deal for his insurance agency, which he had built over the last two decades. MDR & Associates is active in the insurance business and is a trusted resource when it comes to selling your insurance company in today's competitive insurance space.
Secure Protection Insurance, LLC
MDR & Associates sold Secure Protection Insurance, LLC in 2010 to a strategic buyer focused on expanding from health insurance to property and casualty. The client, Ron Davidson, founded the agency in 2003 and grew a sizable book of business that was attractive to the larger insurance agency out of Houston, TX. Mr. Davidson is still active in the insurance industry today and continues to serve his clients faithfully protecting them and their assets with superior service and a high level of integrity.
Harley Davidson of Santa Fe
MDR & Associates located and secured a buyer for Harley Davidson of Santa Fe in March 2010. MDR & Associates was proud to have been a part of this dynamic Harley Davidson transaction, and we continue to be active in the automotive and motor sports industry today.
FedEx Routes throughout Texas
MDR & Associates closed a collection of FedEx Routes in Tyler, Houston and various cities throughout Texas in early 2010 & 2011. FedEx offers the opportunity for qualified candidates to own FedEx routes throughout the state of Texas.